—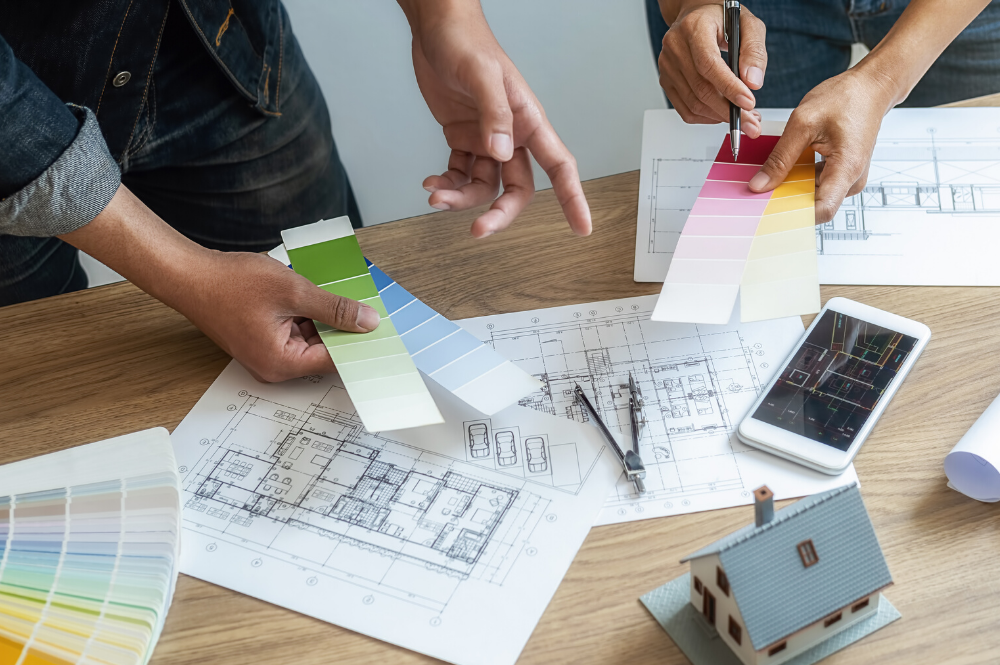 Thinking of Remodeling Your Home? Ask These 5 Questions First
Thinking of remodeling your home? Maybe you've been dreaming of a new, updated kitchen or renovated bathroom to increase the value of your home. Maybe you need to update your basement to accommodate an aging parent, or you'd simply like a new deck to host gatherings in the summer.
Whatever your aspirations, a successful remodel is all about careful consideration and planning. (That way, you can avoid substantial headache and inconvenience — like doing dishes in your bathroom sink for months on end.)
If you're thinking about remodeling your home, avoid diving head-first. Pause and start by asking yourself these five questions to kick off the planning process.
What is my remodeling budget, and how strictly do I need to adhere to it?
Remodeling your home should be a positive and exciting experience. But if you don't set — and abide by — a budget, you might be setting yourself up for an anxiety-ridden few months.
Before you contact a home remodeling contractor, sit down and consider how much money you can afford and would like to spend. That way, you can quickly set expectations with your contractor. Then, they can work with you to see what can realistically be achieved with the money you have on hand.
Is now the right time to begin the remodel?
If you live in Wisconsin and are looking to remodel your roof, it might not be wise to start the project in the dead of winter. Work with a contractor to determine a likely timeline — they should be able to project how long the project will take (note that things like permits and inspections can take much longer than you'd expect). That way, you can schedule the project for when it's most convenient for you and your family.
Where will you stay if the project requires you to be out of your home?
An extensive remodel might require you to live somewhere else for a while. Options include bunking with family or friends, staying in a hotel, renting a short-term apartment, or even renting an RV with a kitchenette. Obviously, your choice depends on a number of factors — including timeline, money, and more. Carefully consider these before making your decision, as it could impact you and your family for months to come.
If you stay in your home during the renovation, where will you cook and use the bathroom?
Kitchens and bathrooms are common renovation projects. They're also some of the most important rooms in the home from a use and functionality perspective.
If you plan on renovating your kitchen, you'll need to get creative. Consider setting up your kitchen appliances in the laundry room or garage, and settle for washing your dishes in the bathroom sink. If the weather's nice, plan to grill outside, and don't forget to budget for eating out more often than usual.
And if you're renovating a bathroom, consider how you'll share the remaining bathrooms between you and your family members. You might need to set up a schedule so that each family member has adequate time to get ready each morning.
Thinking of doing it yourself? Ask: "How equipped am I to DIY this project?"
In a world of Pinterest and HGTV, it's normal to be curious about DIY-ing certain home projects. If you're truly interested in becoming more knowledgeable and handy around the home, more power to you. But we're here to tell you this: don't feel pressured to DIY if you don't want to.
Often, what you see on social media and TV isn't reality — the people behind popular DIY accounts and shows likely have time and resources unavailable to the average homeowner. On top of that, diving into a home DIY project before you're ready could cause lasting damage to your home (and your ego). Sometimes, working with an expert is the quickest, safest, most cost-effective option. (More on DIY and your home here.)
Bonus question: Who do you want to work with?
All in all, if you're thinking about remodeling your home, take a minute to consider the above questions. Successful remodels are built on careful planning and preparation. A final, critical consideration is who you want to work with to get the job done. While a restoration company like Revive may not be the obvious choice, you might want to consider it, and here's why.
As always, don't hesitate to reach out to our expert team with questions about a home renovation, remodel, or restoration project.

Newsletter Coming Soon!
Receive regular updates on tips and tricks to keep your house or office building in tip-top shape.