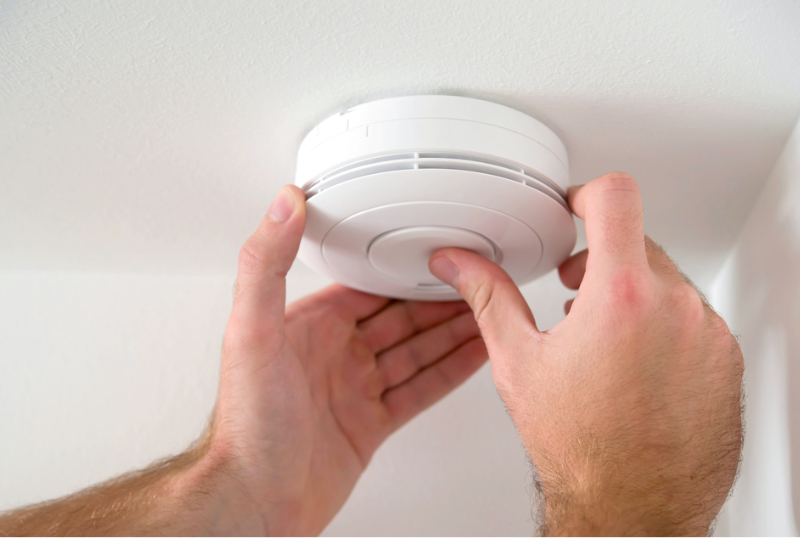 3 Key Tips to Prevent Fire Damage in Your Home or Business
Fire damage to your home or business can be costly and cause emotional pain. Even worse, it can severely harm or even take the life of someone you care about. Fortunately, many fires can be avoided with a few simple precautions. Start with these tips to secure your home and business from fire damage and protect your family, your employees, and yourself.
1. Test your smoke alarms
Functional smoke alarms are your best defense when it comes to minimizing fire damage.
Consider these statistics from U.S. Fire Administration:
Three out of five home fire deaths result from fires in properties without working smoke alarms.
More than one-third (38%) of home fire deaths result from fires in which no smoke alarms are present.
The risk of dying in a home fire is cut in half in homes with working smoke alarms.
Pretty compelling, right? Remember that age matters when it comes to smoke alarms: batteries can wear out over time or die. So, it's important to test batteries once per month, replace batteries one or twice per year, and replace the entire smoke alarm every 10 years.
Another important tip: make sure you have enough smoke alarms installed throughout your home or business. According to the U.S. Fire Administration, smoke alarms should be installed in every bedroom, outside each separate sleeping area, and on every level of the house. Avoid installing smoke alarms near windows, doors, fans, or vents, as air flow can disrupt the alarm's ability to detect smoke. Similarly, install smoke alarms on each level of your business; also, consider placing alarms in areas that pose a higher risk of fire, like kitchens and break rooms with appliances.
2. Keep fire extinguishers on hand.
After smoke detectors, fire extinguishers are one of the most important tools to keep on hand in order to prevent and minimize fire damage. Follow these tips to maximize the effectiveness of fire extinguishers in your home or business:
Choose the type of fire extinguisher that best suits your needs. All household extinguishers are given an A, B, or C classification (or combination of the three), which indicates the types of fires you can use them on. "A" extinguishers fight ordinary combustibles like paper or wood, "B" combat flammable liquids, and "C" can fight electrical fires.
Make sure the extinguisher is light enough to maneuver. The standard 5-pound model is popular because most people have no problem lifting and using it.
Stock fire extinguishers in multiple places throughout your home or business, focusing on areas like the kitchen that pose a higher risk of fire.
Review your fire extinguishers' instructions and make sure everyone in your home or business knows how to use them.
3. Be mindful in the kitchen.
According to the National Fire Protection Association, cooking equipment is the leading cause of home structure fires and home fire injuries. To avoid kitchen fires, follow these precautions.
Keep the handles of your pots and pans turned inward, to avoid knocking into them and spilling their hot contents.
Don't leave a hot cooking surface unattended. It can be tempting to leave the kitchen while your food cooks on the stove, but doing so increases the likelihood that a small stove fire becomes a much bigger problem. If you need to leave the room, take your pots and pans off the stove first.
On a similar note, keep the stove clear of anything that could overheat and catch fire: cookbooks, towels, napkins, or curtains, for example. Also, avoid wearing overly-loose clothing while cooking; worst case scenario, your sleeve may catch fire as you attend to your pots and pans.
In addition to the tips above, establish a Fire Escape Plan to follow in the event that a fire does occur in your home or business. Make sure your family and employees understand where to exit the building based on the location of the fire, and designate a meeting spot outside your home or business, so that you can make sure everyone is accounted for. The National Fire Protection Association shares more tips on creating a Fire Escape Plan here.
All in all, while some home and business fires can't be prevented, many can be avoided if you follow a few simple steps. Implement these fire damage prevention tips today to avoid devastating damage and to protect those who matter the most to you.
Sources:
National Fire Protection Association
National Fire Protection Association
Safewise
This Old House
U.S. Fire Administration

Newsletter Coming Soon!
Receive regular updates on tips and tricks to keep your house or office building in tip-top shape.