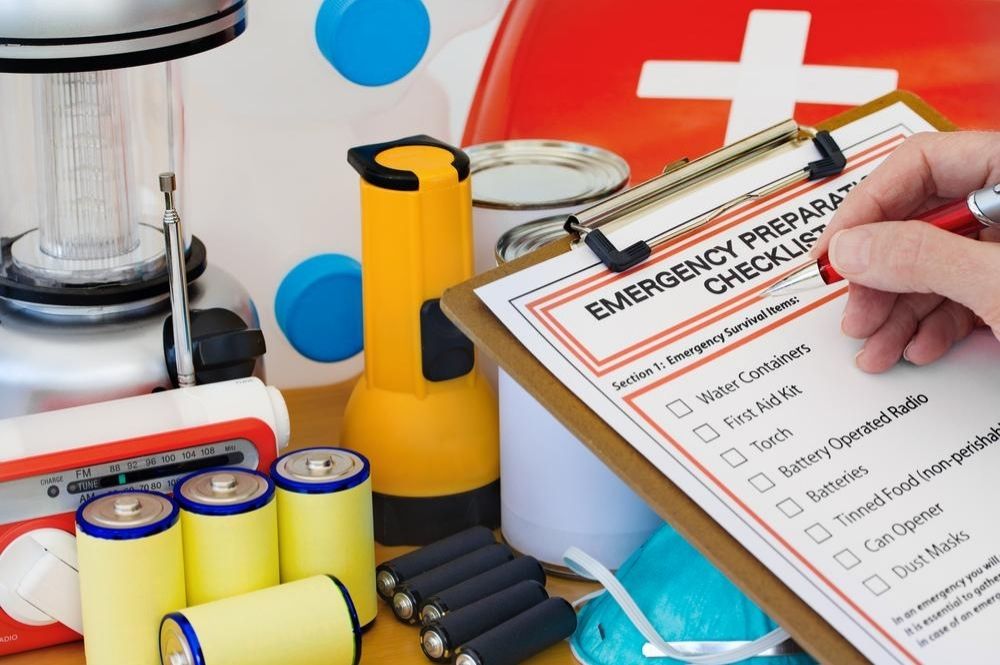 Prepare Your Home or Business for Severe Weather in Less Than an Hour
In the Midwest, severe storms can come out of nowhere. In fact, the majority of our region's biggest damage risks are the result of inclement weather!
There are several steps you should follow year round to make sure your home or business is prepared for rain, wind, and lightning. But what can you do in the moments after the weather channel sounds the alarm and before the storm actually hits?
Let's take a look at the quickest, highest impact tasks you can tackle when you know severe weather is on the way.
Double-check your emergency damage plan
First things first: Know what you'll do if weather-related damage does strike your home or business. Your emergency damage plan should outline your building's insurance coverage, unique risk factors, and a list of professional restoration companies you can trust to clean things up.
Don't have an emergency damage plan? Now's the time to make one! Check out our comprehensive guide, and don't hesitate to reach out to us with any questions.
Have your emergency survival kit ready
You should always keep an emergency survival kit handy in your home and business. Be sure to include:
Drinking water
Non-perishable food
Flashlights and extra batteries
Battery-powered radio
Standard first aid kit
Copies of important personal or business documents
Keep your survival kit in an easy-to-find location. By having all of these items easily accessible from the get-go, you'll be able to devote more of the precious time before the storm rolls in to other tasks.
Clean your gutters
Water damage is one of the most common (and most expensive) weather-related problems in the Midwest. It comes in the form of everything from flash floods to silent mold growth — and it costs home and business owners thousands of dollars each year.
Many preventable leaks can be staved off with one simple trick: Keep an eye on your gutters!
You should routinely clean your gutters and downspouts at least twice per year. If you have time before a storm hits, though, it's a good idea to give them an extra sweep. This will make sure your drainage system is working at peak capacity to prevent water from accumulating on your roof.
Lock all windows and doors
Another way to prevent water damage is to make sure all openings to the outside world are properly sealed.
You can do this by:
Firmly closing and locking your windows
Securing your doors
Stuffing towels or other absorbent fabric in any draft spaces
Do a quick outside sweep
When you get word of a severe storm creeping in, head outside and take a lap around your property.
Be on the lookout for any immediate problems you can fix quickly, like:
Loose planters, personal belongings, or other objects that could turn into flying debris during high winds
Weak or dead tree branches, especially those near your home or business's windows
Cracks in your building's siding that can be sealed with a can of foam
Stay safe inside, and assess any damage when the storm has cleared
Make sure you are securely indoors before the storm's rain, wind, and lightning hits. It's better to leave a few building tasks unfinished if it means you'll be safe — don't stress to clean your gutters or secure loose lawn ornaments at the expense of your wellbeing.
Once the weather has cleared, head outside to evaluate your home or business for any damage. Walk the perimeter of your property and document anything that looks unusual, like:
Broken glass
Missing roof shingles
Damaged window shutters
Dislodged door or window frames
Fallen tree branches
Excess pooling of water
And more
If you notice any damage, get in touch with a professional restoration company right away. We'll come out to assess the damage, board up any broken windows or doors, and get things back to normal as soon as possible!

Newsletter Coming Soon!
Receive regular updates on tips and tricks to keep your house or office building in tip-top shape.